Content Error or Suggest an Edit
Notice a grammatical error or technical inaccuracy? Let us know; we will give you credit!
Draft Warning
You've reached a draft 🤷‍♂️ and unfortunately, it's a work in progress.
I posted this article Migrating to GridPane using a Temporary Domain on the Self Managed WordPress Facebook group. And I received the following comment.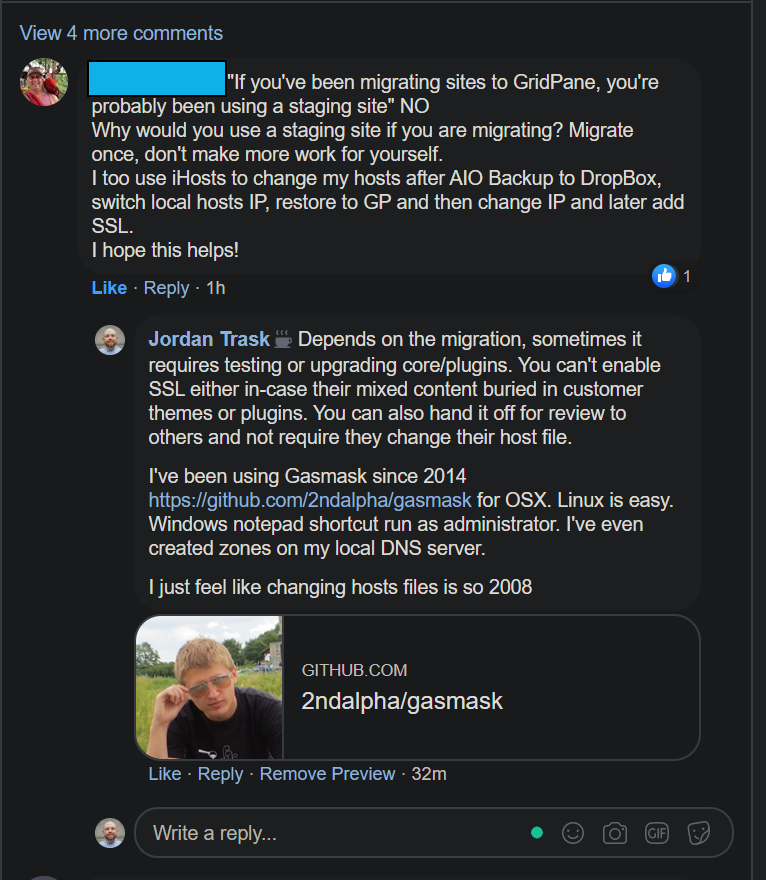 I thought I would write something to explain why I don't edit my host file anymore since I started in 2001.
Host Files
If you've ever wanted to migrate a website to a new hosting provider, it can be troublesome if there's no temporary domain provided.
A temporary domain points to your new hosting account; you can have multiple domains point to your hosting account. Whatever content is in your hosting account, all the domain names will point to said content.
Advice/Tip
cPanel provides the option of a sub-domain or addon-domain that will point to your website's webroot, which can also be considered a temporary domain.
However, a primary domain must be specified in its configuration when using WordPress. This is typically done via two options. Otherwise, you will be unable to login to the administration.
$ wp option get home
https://managingwp.io
$ wp option get siteurl
https://managingwp.io
If this wasn't a requirement, there would be no issues
Other Options